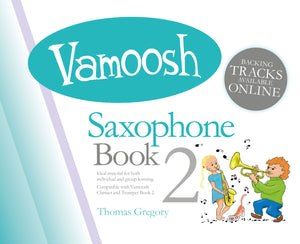 Vamoosh Book 2 for Saxophone is a fun, easy to use book for young alto sax players. 28 variend and engaging pieces that gently guide the player towards grade 1 level. Books are compatible with Book 2 for Trumpet, Trombone and Clarinet and ideal for group lessons.
A digital version is available here to download.
Backing Tracks are available here and via Spotify, YouTube and many other platforms.
A piano accompaniment book is available here.