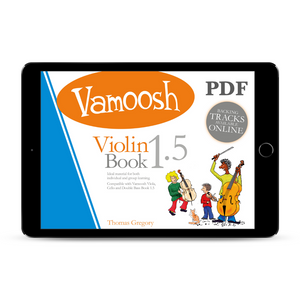 Digital version of Vamoosh Violin Book 1.5. Fun, user-friendly book for beginners. Full of varied pieces including rounds and duets. Ideally suited to those who have completed Vamoosh Violin Book 1. Compatible with Viola, Cello and Double Bass Book 1.5. Some pieces are also compatible with Vamoosh Recorder, flute, Clarinet and Trumpet books.
Piano accompaniment book available here.
Backing-tracks are available here and on Spotify, iTunes, YouTube and other platforms. Search 'Vamoosh String Book 1.5 backing tracks'.

This product is a PDF download